Rudolph Giuliani, the outgoing Mayor of New York City, has been named TIME Magazine's Person of the Year for 2001.
The two-term Republican wins the award for his administration of the city in the aftermath of the terrorist attacks of September 11.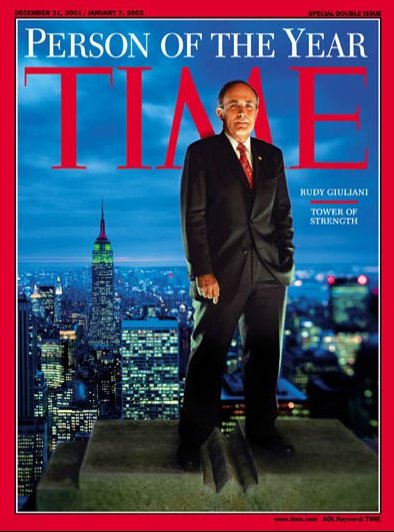 In its annual presentation edition, the magazine says that "Giuliani's performance ensures that he will be remembered as the greatest mayor in the city's history, eclipsing even his hero, Fiorello La Guardia, who guided Gotham through the Great Depression.
"Giuliani's eloquence under fire has made him a global symbol of healing and defiance. World leaders from Vladimir Putin to Nelson Mandela to Tony Blair have come to New York to tour ground zero by his side. French President Jacques Chirac dubbed him 'Rudy the Rock.'
As Jenkins, author of the biography that inspired Giuliani on the night of Sept. 11, told TIME, 'What Giuliani succeeded in doing is what Churchill succeeded in doing in the dreadful summer of 1940: he managed to create an illusion that we were bound to win.'"
Listen to Giuliani comment on the TIME award (16s)