The Australian Electoral Commission today declared the result in the electorate of Bennelong, formalising Maxine McKew's victory over the former Prime Minister, John Howard.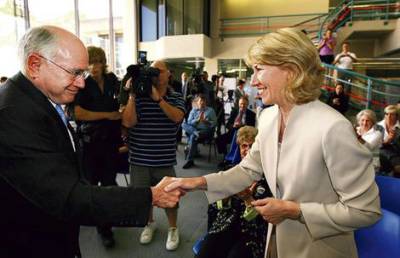 John Howard and Maxine McKew at the declaration of the Bennelong poll
Howard attended the declaration, congratulated McKew and spoke of the beauty of a democracy in which a peaceful transition of power can take place.
Howard's defeat in Bennelong brings to an end a political career which began in 1974 and included 11 years, 8 months and 22 days as prime minister. He is only the second prime minister to lose his seat at an election.
In keeping with her approach during the year-long campaign in Bennelong, McKew was respectful towards Howard, at one point calling him "sir".
McKew secured a 5.53% swing to the ALP, giving her 51.40% of the two-party-preferred vote, representing victory by 2,434 votes.
Howard polled 45.49% of the primary vote, marginally ahead of McKew on 45.33%. The Greens candidate garnered 5.53%, the Christian Democratic Party received 1.29%, whilst the other nine candidates each polled less than 1%.
Howard is the only prime minister to lose his seat since Stanley Melbourne Bruce in 1929.