Patrick Secker was first elected as the Liberal member for Barker at the 1998 federal election.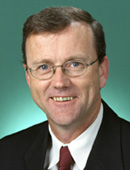 He was re-elected in 2001, 2004, 2007 and 2010. In March 2012, he lost preselection to Mount Gambier lawyer Tony Pasin. In a preselection ballot, Secker polled 78 votes to Pasin's 164, with a third candidate securing 40 votes.
Secker was Opposition Whip before leaving the Parliament. He never served as a minister.
Barker is a rural electorate in South Australia. Since its creation in 1903, it has never been held by the ALP. Its eastern boundary is the South Australian border. It includes the Upper and Lower South East, the Mallee, the Riverland, the Murrayland and most of the Barossa Valley. Secker won the seat in 2010 with 62.88% of the two-party-preferred vote.
Listen to Secker's speech (29m)

Hansard transcript of Patrick Secker's valedictory speech to the House of Representatives.

Mr SECKER (Barker—Opposition Whip) (17:33): Speaker, on indulgence: I rise today in what may be my last speech in parliament but not, I hope, my last contribution to parliament. I intend to fulfil my duties as Opposition Whip to the last second. It is a position I have thoroughly enjoyed and learnt from.

Our team—the member for Leichhardt and the member for Forrest—have worked together very well. I especially thank Warren for allowing me to have my head and do things that would not necessarily be the norm, such as leading discussions in the Selection Committee on things like standing orders, where one has to have a thorough knowledge of standing orders and the Houseof Representatives Practice. I think Warren would be the first person to admit he has no idea on those sorts of things, so we work together well as a team. We have worked together as a team to advise and work with the Leader of the Opposition and the Manager of Opposition Business in the House.

I have also enjoyed my discreet debrief with Joe Hockey and Chris Pyne after each question time. I had to add that because, at our debrief after today's question time, they basically demanded that they be put in the Hansard, so there you are.

An opposition member: Joe did.

Mr SECKER: Joe did! I never tire of this job, and I thank the Leader of the Opposition for the opportunity to serve the parliament and to serve the Liberal Party. Tony, I believe that you will make a great Prime Minister. The public has not seen the best of you yet, and policies like the northern development policy and the new Colombo plan I think will be policies that will be remembered for decades to come; they are that important.

Being the whip has its challenges, and I hope that in some way I have been of some help to my colleagues with advice, counselling and support. It was once said to me that being a whip is akin to herding cats, but I think it is more like trying to keep frogs in an open wheelbarrow; it is much trickier. One of my colleagues Mal Washer suggested that making me whip was like appointing the poacher as the gamekeeper. There is a bit of truth in that; I know most of the tricks because I have tried them all myself!

But I believe the whips play an important and essential role in the running of the parliament, and there are important qualities that are necessary to being a successful whip. Trust is No. 1—that is from both sides of the parliament, and I can count the whips on the other side as friends. Trust is also important because you learn confidences and what might be termed indiscretions that should not become public because they are of a private nature. I remember Speaker Harry Jenkins suggesting after I retired as a Deputy Speaker to become a whip that I had 'gone to the dark side'. There may be a grain of truth in that, which is why I reckon Harry could have made a very good Labor whip. I even lobbied for him at the recent IPU; he would have no part of it, of course.

As part of the Australian delegation to the IPU conference this year in Quito, Ecuador, I had the honour of chairing the Whips Network Meeting, which was an initiative of the former government whip, Joel Fitzgibbon. He could not attend at the last minute, due to various political manoeuvrings that had happened, so I was honoured to do that. If anyone gets a chance to be an IPU delegate, please take it up. It is a very interesting role. You go to a conference of, say, 700 or 800 delegates and about as many staff. So it is a big conference. I think Australia has a very proud record. This year the Speaker actually chaired the assembly. Dick Adams chaired one of the major sessions and did a great job. Ursula Stephens also chaired another group. With four out of the five delegates playing pretty important roles amongst all the big countries of the world, I think we can be very proud of what we do at the IPU.

I also prepared and led a session for the first and only CPA whips conference, held in the Hunter Valley in 2007. I worked with Roger Price, who was then the government whip. Interestingly, Joel Fitzgibbon came along to that, because it was in his electorate. Little did I know that he would be taking over as government whip after the election.

I can also say that I have never been kicked out of this chamber—but there is still time, Speaker. I think it is all about knowing where to draw the line. Plenty of people have come up to me and said that I get away with blue murder, but the fact is that I know where to draw the line. So I have not been kicked out yet.

But enough about whips for now. Let us go back to my parliamentary career, which started in 1998. I previously sought Liberal preselection on four occasions and had failed. I was first defeated in 1984 for the new seat of Mayo, for which they rightly preselected Alexander Downer. I then tried for a state lower house seat, won by Dean Brown, who went on to become state Premier. I also ran for a state upper house seat, where there were something like 24 candidates for five or six positions. However, I never ran for Senate preselection, because you have to draw the line somewhere—a joke of course! I am quite enthralled by the workings of the Senate and the great committee work they do and how seriously they take their references of bills process. We have tried that in the House of Representatives in this the 43rd Parliament, but I am thoroughly disappointed that, on most occasions, this government did not take it as seriously as it should have—with mere two-hour meetings and very little consultation. I think we have lost a real opportunity as the House of Representatives to get really involved in that part of parliamentary business.

On the fifth occasion my opportunity for preselection was unexpected, it was unplanned, because it came when the previous member for Barker, Ian McLachlan, suddenly announced his retirement in August 1998 after only eight years in parliament—and he was a minister. Just three weeks later I was preselected on the very day that John Howard announced the election date for five weeks later. So I had a short period to get around an electorate bigger than Tasmania, still learning the issues, especially around the GST election, which was a pretty steep learning curve. Luckily I had a reasonable understanding of how the GST worked, but it was a short and tough initiation in the world of politics.

It was also an election where the pork industry ran a strong campaign to get us to increase tariffs, bring in quotas and provide more protection and handouts—something I have always opposed. I do not believe that is a track that a government should ever go down. In fact, it was a former member for Wakefield, Bert Kelly, who had really got me interested in this issue. For years he fought an almost lone hand in opposing tariffs and the damage to efficiency of those industries with high tariff walls that made goods more expensive. When I did my economics degree it was one of those subjects I enjoyed doing my thesis on. I thought tariffs, as a general policy, had been thoroughly discredited, until very recently when another member for Wakefield called for tariffs to protect Holden. I am sure Bert Kelly would have turned in his grave.

Anyway, I digress. In those five weeks leading up to the 1998 election I remember usually getting home at midnight or later and then filling out surveys by fax from my home fax machine—we are talking about 1998 here—until the early hours and then starting out early again the next morning. I had no office and no office staff support; I just did it all myself. I am not sure if I was meant to do the surveys or not; I just did them—reams of faxes. I think we actually encourage people not to fill out those surveys now. After five weeks I was pretty exhausted by election night. I had used my own ute, my own fuel and my own time—but it was worth it, of course. I paid for my own accommodation and even paid for my own polling, because the party did not poll my seat as 'Labor would never win it and have never won it since Federation'—one of only three seats never to be won by Labor since Federation. So they must have thought that even I could not lose it! I was not so sure and I did not want to be the first.

On the night of the election the first booth to come in was the Tailem Bend booth and Pauline Hanson's One Nation Party came in with 23 per cent. People can win with that sort of vote, especially when there are nine candidates. Thankfully, that was their highest vote and ended up with about 11 per cent of the vote over the whole electorate. Eight booths out 127 favoured Labor but, by the next two elections, I had won every booth bar Nangwarry, but got up to 48.5 per cent there in 2004. Nangwarry was a forestry town and they did not like Mark Latham's intervention in the Tasmanian forestry election. So it was not my charm or expertise; it was Mark Latham. Thank God for him!

After the 1998 election I flew from Adelaide to Mount Gambier for some function, even before the declaration of the poll, and with exhaustion I fell asleep on the hour-long plane trip. When we started to come in to land, I woke up and looked out the window and my first thought was: 'The sea is on the wrong side of the plane.' My second thought was: 'I've got on the wrong plane—perhaps to Melbourne.' My third thought was: 'I can see the headlines—"New member gets on wrong plane to wrong city; oh, no!"' The explanation was much simpler: a passenger had died on the way and the plane turned around and headed back to Adelaide—hence the sea was on the wrong side.

I still remember the declaration of the poll, the orientation of new members where we were bombarded with all this information—and, frankly, I think you need another one six months later to take it all in—and of course you will always remember the first day of parliament. On the first day I was staying at the Forrest Lodge, as was the member for Lowe, now the member for Reed, John Murphy. We decided to walk to Parliament House. I got on well with John from the moment we met and we enjoyed our walk to Parliament House, only to be met by the cameras outside the door wanting to know why we walked when everyone else came by big white Comcars. We made national news that night but, being new, I am not sure that either of us knew that we could actually get a Comcar. But we sure do now.

The first day is always exciting for the new member, with the pomp and the ceremony and swearing in. Our whip then was Michael Ronaldson, now Senator Michael Ronaldson—and I will have more to say about you later, son! In his election one year his vote went up when he spent all his time in hospital and did not see anyone or go anywhere. Work that one out. Ronno, as whip on the first day, asked me whether I had written my maiden speech. Stupidly, I said, 'Mostly written,' when I had not written a word or thought about it that much. So Ronno said, 'Right, then you're speaking tomorrow morning and seconding the Governor-General's address in reply.'

I went back to my office and started writing, expecting to finish it that night back at the Forrest Lodge Hotel. Unfortunately, I got caught up with the Speaker's brother, Stuart Andrew—the Speaker at the time was Neil Andrew. Stuart could have put on the robes and literally walked in here and nobody would have known the difference—they looked so well. Stuart has a line that, on average, the Andrew family of mum and dad and four offspring were moderate drinkers but, because the other five were teetotallers, he had to make up the rest—and he did raise the average to moderate. Certainly we enjoyed a bit of cordial that night.

Somehow I finished the speech the next morning and on Remembrance Day, 11 November 1998, I gave my first speech in parliament. Parliament paused at 11 am. Then came Vietnam vet, Graham Edwards who would be known to many in this chamber, and I followed him. I remember in that speech that I quoted the few books and philosophies such as J. S. Mill, Hayek and Milton Friedman. To those I would now add another book lent to me by my good friend Kep McGovern, who is here today. That book is Atlas Shrugged by Ayn Rand, which shows the folly of government subsidies instead of rewarding excellence and letting excellence get on with what it does well. It was written a long time ago but it has many parallels for today.

In that maiden speech I also extolled the beauty of the electorate of Barker and its many great qualities. Like my neighbour John Forrest in Mallee, we have similar challenges but between us we represent about two-thirds of the Australian wine industry. Of course I have the best. I have the Coonawarra, Barossa, Mount Benson, Edenvale, Padtheway and Wrattonbully and so on. And so I tried to use that to my advantage as often as I could. As a member for nine years in government, I attracted 63 ministerial visits, or on average seven a year, and people wondered why a safe seat like mine was able to achieve that. Usually all I had to do was mention those wine areas and where would we would be having the functions, and that seemed to help.

Before I came to parliament, I had 11 years in local government and I always thought it important to keep in touch with my 14 local councils. I would certainly recommend that to all members, as the civic leaders are a valuable resource who know what is going on locally.

In my maiden speech I also mentioned that Barker was named after Captain Collet Barker who was sent by Charles Sturt to solve the mystery of where the mouth of the Murray River was. I noted that upon discovering the mouth in 1831, he climbed a sandy hill only to be speared by the local Indigenous people. I said it was a fate that I did not wish to replicate. However, I have been speared, metaphorically, by the local Indigenous Liberal Party members, as was a former member for Barker, James Porter, both after serving 15 years. However, that is their right, and I have moved on and am looking forward to life after politics.

The question I have been asked the most is: what got you into politics? I am sure most of those around here have been asked that question as well. My usual response is: insanity. However, that is not the real reason. I was brought up to serve the community and I am proud that I served my communities. Being the youngest of eight children sitting around the kitchen table, I soon learnt to take an interest in what was happening around the world and soon learnt to be competitive in the debates and arguments I put forward. It stood me in good stead for this place.

I think everyone owes everything to their upbringing. I am very thankful for my parents teaching me what was right and wrong, and I try to keep to those rights and wrongs. I could not bring myself to do anything that would shame my family. Dad was also our local mayor and councillor and was a great role model for all of us, as was my mother. My mother was able to come to my first day in parliament and was with us until three weeks ago, going at the ripe old age of 95. She was a lady of wit, wisdom and warmth.

Three of my siblings are here with me today, including Helen, who I mentioned in my maiden speech 15 years ago. I got told off by my other siblings for not mentioning them! Peggy is here. She is the family organiser and a dear friend and supporter. Also here is Gerard, who I played countless test cricket and AFL football games against in the backyard and down the passage with a rolled up sock. I will never forget those games. My brother Terry is a farmer on the west coast. My sister Caroline is a teacher and volunteer teacher in African countries. Andrew, another brother, was a high-ranking public servant. So we have a pretty diverse family, but all have achieved a lot in their own lives one way or another.

I am also blessed with many friends who have travelled from South Australia and Victoria to share this special moment with me: Kim Kearne, my best friend for about 55 years—and I am only 57!—so a better friend, I could not have; Jim Koerner, who I shared a Rotary group study exchange trip to Texas with in 1986 for seven weeks—Carol, his wife, is here as well. That was a wonderful experience that only Rotary could deliver. My two stepdaughters, Carmen and Megan, are here. Many of you will remember Megan as a valued staffer. It is her birthday today. Happy birthday, Megan! My four great friends in Murray Bridge—Rob and Karen Milesi and Don and Cathy Ruggerio—have travelled here as well. I thank them for their support over a number of years and the good times we have had, with more to come, I am sure.

Being a member of parliament has its ups and downs, but there are many things that make it worth while. My advice to other MPs is that you can often achieve things that you never thought possible. I will give an example of where you can use your authority to make things happen. A constituent of mine was worried about their young child who was awaiting a serious life-saving operation which had been deferred twice because of some important craniofacial operations for overseas children. So I spoke to the CEO of the Melbourne Hospital 800 kilometres away, who I did not know from a bar of soap, and faxed a letter congratulating them on their great craniofacial work but explaining the situation and suggesting it would be a good idea to look after my constituent as a matter of urgency. Some time later, the grandfather told me that the CEO came down to the family waving my fax saying they had changed their mind and that, because of my fax, they would do the operation the next morning. That child is now a healthy young person, living life to the full.

Like all members, I have helped countless constituents with phone connections, tax office solutions, Centrelink stuff-ups and numerous other bureaucratic problems. Bureaucrats try their best and the problem usually lies in the strict guidelines that they are told to follow, which are usually pretty inflexible. I often ask a question, followed by a letter, along the lines of: 'Do the guidelines say that you can't take this action?' If they say 'no', then I suggest they do it. More often than not, we have some success.

I have enjoyed and learnt from my work on several standing committees of parliament, and I would recommend this to all of my colleagues. In my 15 years, I have worked with 48 members of this present parliament—one in three—on committees of all persuasions, and with other MPs who are no longer here. It is a great way to get to know MPs from all sides. I have made many friends along the way. It is always very difficult when you mention a few of them, because some will be omitted.

Two Tasmanian cousins, as I like to call them, Dick Adams and Sid Sidebottom, have been very good comrades from my first day in parliament, due to that committee work. I know I should not single them out, because, by omission, I am leaving so many friends on the other side out. Can I mention people like Gibbo over there, Harry Jenkins, Martin Ferguson and Joel Fitzgibbon—gee, we have had some fun together. Also I mention Chris Hayes, Rob Mitchell, Ed Husic, Anthony Byrne, Rob McClelland and, more recently, Gai Brodtmann. The other side is not evil and you must not forget it. We are all here to do a job and try to do it as best we can. I liken parliament to playing sport: you play hard when the game is on, but after the game you sit down and enjoy their company.

I also have many close friends on my side. Again, omission may be a problem. Can I point out people from my own state like Andrew Southcott and Rowan Ramsey—people I would trust my life with. I also point out Peter Dutton, Bronnie, Sophie, Don Randall, Tash and Alby, members of the Tuesday lunch club at Timmy's, and many others who have joined us. Who could forget those Western Australian colleagues who came to parliament with me: Mal Washer and Barry Haase. I apologise for any omissions, but I have always tried to be friendly to all members and all staff. I have never found a reason not to be.

Another aspect of parliamentary life is enhanced by the Parliamentary Sports Group. I pay tribute to Andy Turnbull for bringing this together. I have played a fair bit of cricket and Andy Turnbull once described my spin bowling as 'wizardry' because no two balls were the same—mainly because I could not achieve that! I have played golf, where I have found it very easy to score a century; tennis; and snooker, only to be beaten Cobby in a final—damn you, Cobby! Which brings me to Ronno again: this is a warning to never let Ronno umpire. Trigger-finger Ronno once gave me out LBW when it would have missed leg stump by a good foot, and I have never let him forget it.

My staff—Alex, Deb, Karen and Sandra—are here and I thank you for all your great work, over many years, to serve the constituents of Barker. Members can only be as good as their staff, and they continually give me reason to smile for the work that they do.

Last of all, can I thank my darling wife Sharon—my rock, my love and my support for 11 years, one month and 21 days. I proposed to Sharon two weeks after our first date and that was the best decision I ever made. Her worst decision was probably to say yes! This job is a hard one and we all know our loved ones are essential in keeping a level head, keeping us grounded and sharing our confidences. For that, I thank you, darling. I refer to Sharon as my bride, with total affection. We all know that our loved ones take the criticisms of us harder than we do, as we tend to develop a thick hide. I have often said I did not care what people said about me before I came into the parliament, so why would I care after? But I did have a safe seat, so it did not matter that much really.

Can I finally thank all those I have come across in the last 15 years. Thanks for the memories and friendships. I look forward to life after politics. Vale, my friends.

The SPEAKER: I congratulate the member for Barker and thank him for his support on the Selection Committee. It has been an interesting experience. The member for Hunter is seeking indulgence for a couple of seconds.

Mr FITZGIBBON (Hunter) (18:00): Thank you, Speaker. I thought it might suit the House for me to just respond very briefly to the generous words of the member for Barker, because obviously there is going to be a period of time while he is being congratulated, and I did not want the member for Hume's contribution interrupted by the goodwill being extended to the member for Barker. But as the former Chief Government Whip and, I am sure, on behalf of the current whips—I am sure they will not mind me doing so—and, even more importantly, on a personal note, I congratulate the member for Barker on his magnificent contribution this afternoon. I too have enjoyed his friendship and the odd glass of red wine—although I have never managed to get him to admit that the Hunter wine is superior to the wine of his own region. But I will keep working on it beyond his stay in this place.

I thank him for his contribution to the international whips network. In doing so, I should acknowledge that the member for Fairfax and the former member for Chifley were the original initiators of the whips network, but I took it to a broader international sphere by seeking to have it embraced under the umbrella of the Inter-Parliamentary Union. Again, my very best wishes go to the member for Barker. I think the whips make a wonderful contribution to this place. It is hard work, of course, but they play an important role. The member for Barker has certainly done a magnificent job as a whip in this place. I look forward very much to hearing from the member for Hume.