Senator Helen Kroger was a one-term senator who was elected in 2007 and was the only Coalition senator to be defeated at the 2013 federal election.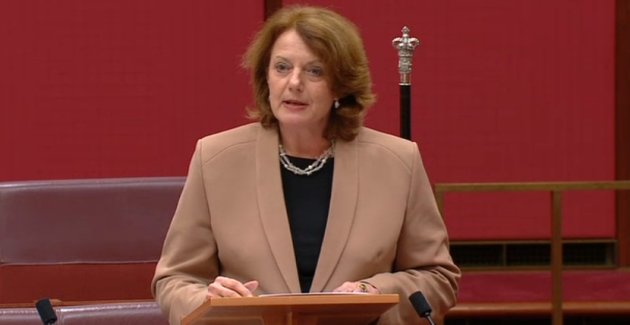 Kroger was one of the final three senators to give valedictory speeches on June 25, 2014. The others were ALP Senators Mark Furner and Don Farrell. Following their speeches, nine other senators paid tributes to their departing colleagues.
Listen to Kroger's speech (26m – transcript below)

Watch Kroger's speech (26m)





Listen to Mark Furner – ALP-Qld (24m)

Listen to Don Farrell – ALP-SA (21m)

Listen to Eric Abetz – Lib-Tas (9m)

Listen to Penny Wong – ALP-SA (9m)

Listen to Nigel Scullion – CLP-NT (6m)

Listen to Helen Polley – ALP-Tas (5m)

Listen to Anne Ruston – Lib-SA (3m)

Listen to Catryna Bilyk – ALP-Tas (6m)

Listen to Nick Xenophon – Ind-SA (2m)

Listen to Simon Birmingham – Lib-SA (5m)

Listen to Ian Macdonald – Lib-Qld (2m)

Hansard transcript of Senator Helen Kroger's valedictory speech.

Senator KROGER (Victoria—Chief Government Whip) (17:00): In my inimitable way, I have actually put off putting pen to paper until the eleventh hour for this speech, as in my mind the process was akin to drafting my own obituary. I have received so many offers from different quarters who wanted to take the opportunity to assist me to ensure that I canvassed certain matters of interest. I suspect that I have probably failed them in their quest, but I know with certainty that this is no obituary and no goodbye.

I am honoured to follow the trailblazing footsteps of Dame Ivy Wedgwood, the first Liberal woman to be elected in the Senate from Victoria in 1950 and the first woman to chair a Senate committee. Together with Dame Elizabeth Couchman, the then president of the Australian Women's National League, she negotiated a tough deal with Sir Robert Menzies that enabled the formation of the Liberal Party of Australia in 1945 demanding that women were equally represented throughout all structures of the party. This structure continues today and provides a pathway for women to engage with politics. The Senate position held by Dame Ivy Wedgwood has been held by only a further three Liberal senators, all women, including two cabinet ministers: Dame Margaret Guilfoyle, Dr Kay Patterson and myself. I have to say that it saddens me that on 1 July this tradition will be broken and for the first time in 64 years Victoria will not be represented by a Liberal woman in the Senate.

What I did not know when starting out was the breadth of knowledge and expertise I would develop along the way. I owe my understanding of pelagic fisheries the Senator Colbeck. For those of you who have not been paying attention, I seek leave to table an exhibit for those who need to visualise what I am talking about—a small fish! I might give this to the attendants.

The PRESIDENT: There being no objection, leave is granted!

Senator KROGER: I actually will put it back in the water! As the daughter of a market gardener, I can now hold my own on the subjects of fenthion, genetic modification, spores, bumblebee pollination, fruit flies, salination, pineapples—thanks Bozzie—and irrigation channels, and the list goes on. Mr President, may I assure you and the clerk—who is looking very concerned at this point in time!—that I will not seek leave to table any further exhibits. The bumblebee has been quarantined at the Tasmanian border!

I have been very fortunate from day one to participate in committees of my choosing and one of those is the Foreign Affairs, Defence and Trade Committee. I have had the benefit of first serving under the eminent former deputy chair, Dr Russell Trood, and presiding as chair of the references committee. Whilst the committee has been engaged in a number of inquiries, the inquiry into HMAS Success and improper behaviour to women was galvanising. Evidence presented during the inquiry reinforced the need for the Australian Defence Force to revisit its culture and its practices to ensure a level playing field for all men and women. It has been encouraging to see this addressed, but I have been mortified by the recent reports of abuse at HMAS Leeuwin.

The opportunity to participate in the parliamentary and ADF exchange programs enabled me to directly experience the extraordinary service, professionalism and distinction of our Defence men and women. Visiting Afghanistan and the waters to the north of Australia and taking part in the biennial RIMPAC exercise have only reinforced my respect. So it is with a heavy heart that I say we should expect and demand more. There should be zero tolerance for any substandard behaviour. The ADF needs to get its entire house in order. The appalling behaviour of only a few diminishes the reputation of the whole. Bad behaviour must be stamped out.

It is imperative that as a leading First World nation in the Asia-Pacific region we further our relationship with our nearest neighbours for mutual gain. The integration of DFAT with former agency AusAID is a very principled decision by Foreign Minister Bishop and one that I fully support. It is important that foreign policy, trade, aid and defence strategy be determined in concert with each other and not as independent silos, with a common goal of creating a secure, prosperous and stable region.

The effectiveness of our aid program and the way that we ensure bang for our buck has been a keen interest of mine, as you all know, for the last six years. Taxpayers have every right to know how their money is spent and with what outcome. I commend Foreign Minister Bishop. She has already proved that talent and ambition for our nation opens up so many opportunities, and the next decade will be an exciting one for Australia.

It would be remiss of me to comment on matters of an international nature without recognising the leadership, initiative and determination that Prime Minister Abbott has demonstrated on the international stage. Foreign diplomacy is a subject that many study for years but don't get right. Like many, I have been so impressed by the way the Prime Minister has engaged with his counterparts from Davos to Abu Dhabi, Normandy to Tokyo, Washington to Port Moresby. It is history that will judge his international forays by outcomes, and he, together with my friend and Victorian colleague the Hon. Andrew Robb, has concluded two free trade agreements, with another seven advanced, all in the first nine months.

I think we would all agree that leadership is not a job for the faint-hearted. Having first met the Prime Minister over 25 years ago, I have known him outside the rigours of parliament. He is a man who carries the mantle of leadership with gravity and responsibility. He has shirked the easier road of populism, and I commend him for making tough decisions so early in this government in order to set the nation back on a fiscally responsible path.

In the very early days of this government, behind the scenes, and together with the Hon. Julie Bishop, he sought to liaise with his counterparts in the UAE, where a Victorian, Matt Joyce, had been arrested and detained for over four years. It would be fair to say that the arrest and detention of Matthew Joyce and Marcus Lee was a matter that I had been very passionate about. Matt was facing a 10-year prison sentence in a Dubai cell, with a $25 million fine. It is always difficult to provide support for Australians caught up in legal proceedings in foreign jurisdictions, whilst respecting the autonomy of the nation and its court system. I was convinced of their innocence. The matter was complex, and I sought assistance discreetly behind the scenes, but to no available. I used the parliament to advocate for two Australians who had no voice. I was threatened. I was bullied. But I have to say—and those who know me will not be surprised to hear—that it only strengthened my resolve.

I want to put on the record my gratitude to the Prime Minister and the Minister for Foreign Affairs for their direct entreaties that saw Matt Joyce fly home shortly after the Abbott government assumed office. Their actions enabled an innocent Australian man to walk free and resume his life with his young family—and a man, I hasten to add, whom I have never met. There is no way in which I can adequately express my appreciation to them for facilitating his freedom.

I consider my position in the Senate as a privileged one that has allowed me to advocate on behalf of many. I am the 528th person to have been elected to the Senate since Federation. This is an honour that is bestowed upon so few, and one that I will always be grateful for. I thank the people of Victoria and the Liberal Party for the opportunity.

Serving as the chief whip in opposition and in government, I have worked closely with senators on all sides of the chamber, and I appreciate the professionalism and good humour we have shared. It is not to say that there has not been a little argy-bargy going on behind the scenes to keep us all on our toes. I would particularly like to thank Senator McEwen and her deputy whips, Senator Xenophon, Senator Madigan and Senator Siewert. We all know that I have taken a few swipes at the Greens in my time, yet Senator Siewert has never allowed partisan politics to interfere with the running of this chamber—and I thank you, Rachel.

In the lead-up to the 2010 Victorian state election, I was concerned that the Liberal Party would preference the Greens over Labor, just as they preferenced Adam Bandt for the seat of Melbourne in the previous federal election. I respect the right of the Greens to advocate their ideological platform but I took umbrage at the thought that the Liberal Party would compromise its values and principles by trying to outflank the Left from the left. It would be fair to say that I took some heat in calling the Liberal Party hierarchy out on it publicly—and I think I still have the scorch marks to attest to that! It was a very tense six weeks. But, as history now records, this decision turned the tide of discontent, and the state coalition was rewarded with office, for standing up for the proud Menzies tradition. It was the right thing to do. It was also a decision that was strongly applauded by party members, who, after all, are the ones who provide those of us on this side of the chamber the opportunity to serve.

Being the patron senator for Bruce, Chisholm and Deakin has been a lot of hard work but most rewarding. Working the outer eastern corridor of Melbourne as if it were one giant seat has shown me that the members in the other chamber have it easy. I am so pleased that some of them are in the chamber today to hear this. The local volunteers worked with me to advance the cause and, in six years, we have won back the seat of Deakin. We now have a talented representative in Michael Sukkar—and I am so pleased to see you in the chamber tonight, Michael.

In Bruce and Chisholm, the organisation has been regenerated and revitalised. A highlight for me has been working with such committed and interesting people, who would be millionaires if they were able to bill their time. In the interest of time, I note the great work of the electorate executives under the chairmanships of Jeanette Milnes, Tom Daniel, Noel Pink, Ian Hansen and Clyde Aitken. They are wonderful people and they have earned my enormous respect. I have to say that you get to know each other well when on your hands and knees, rolling out banner wrap at midnight.

My political travails have been shared with my very good and loyal friend, former party state president and treasurer, Russell Hannan—who is in the gallery this afternoon. Former party state presidents never retire. It is in their DNA, and Russell is a great exemplar of this.

Another is Michael Kroger, the father of my children, the most talented politician outside of parliament who continues to contribute so much to the political debate in this country. Michael, you have never wavered in your support; you actually take hits on my behalf; we are great friends, but more importantly you are a wonderful father. Thank you. Robyn Nolan, the President of the Federal Women's Committee, and Carol Walters, the Chair of the Victorian Liberal Women's Council have both flown in from Perth and Melbourne respectively. Both are talented, professional women who make a real difference and I thank them. I also would like to acknowledge Tim Smith, candidate for Kew, who will be a terrific state MP and has a big future ahead of him.

I have shared the highs and lows for over 15 years now with Senator Ronaldson—and I am hoping I actually look a bit better than he does 15 years on. And I am going to use the fact that this is a valedictory to call him 'Ronno' because he is a true friend. He is a man of enormous integrity and talent. I am very blessed to call you a friend, and we all know that real friends in this place are a very rare commodity. I thank you.

My offices in Burwood and Canberra tick over like a steam train: smooth and quiet on the surface with furious activity below to keep it all going, with, seemingly, breakdowns only when I am around. My heartfelt thanks to Suzanne, Harriet, Amanda, Sybille—who is manning the phones in Melbourne—Bevan, Karen, as well as Kate and Emily, who were with me before the election. I have to say that I am looking forward to that lunch on Monday, but I could not have done it without you, and I thank you. To my former chief of staff, Brad Rowswell, I say: I think you are a star, but I am very mindful that if I say that you will not be able to get out the door when you leave. He is talented, decent and irreverent—a winning combination.

As whip, I work closely with so many professionals who ensure that the Senate practices and procedures are observed. My thanks to the inexhaustible Dr Rosemary Laing, Brien Hallett, Chris Reed, Bronwyn Notzon, Richard Pye, the table office, the committees' secretaries, the attendants—particularly John who continues to humour my repetitive jokes—Hansard reporters and security—the people who actually keep this place physically up and running. Ian and Peter, who look after us all so well in Senate transport, and the many Comcar drivers all make a difference. It will be a Comcar driver who delivers me home and who will be my last contact with the myriad support personnel who make this place tick.

In closing, I turn to the most important people in my life: my family. My contribution to public service has only been made possible with their love, support and understanding. My 90-year-old mother still holds sway over her son and two daughters, and I am so fortunate to have had her guidance and that of my father who died before my Senate foray. To be honest, I think he would have thought I was absolutely nuts. In my first speech I spoke of the importance of my family and what they mean to me. My crowning glory is neither my time here nor my contribution to the political landscape, but rather my sons, Jack and Simon. They are intelligent, decent and compassionate young men who make Michael and I very proud every day. They continue to inspire me. Put simply, I could not have served here in the Senate without their support. We laugh together and we cry together, but most importantly we treasure our lives together. My only advice to them is: never fear failure, because you will never know what could be if you do not at least try. Whilst success is sweet, regret is a lost opportunity. Thanks.