Five-a-Day
Australia's 22nd prime minister, Malcolm Fraser, died on this day in 2015. He was 84.
On March 21, 1975, Fraser defeated Bill Snedden to become leader of the Liberal Party and Leader of the Opposition. In 7 months and 21 days he would be prime minister, following the coalition's blocking of Supply in the Senate, which led to Whitlam's dismissal by the Governor-General, Sir John Kerr.
A motion to spill the Liberal leadership was carried by 36 votes to 28. Fraser then defeated Snedden by 37 votes to 27.
The audio clips on this page are all from March 1975. It's only the second day I've been posting Five-A-Day, but this one contains eight.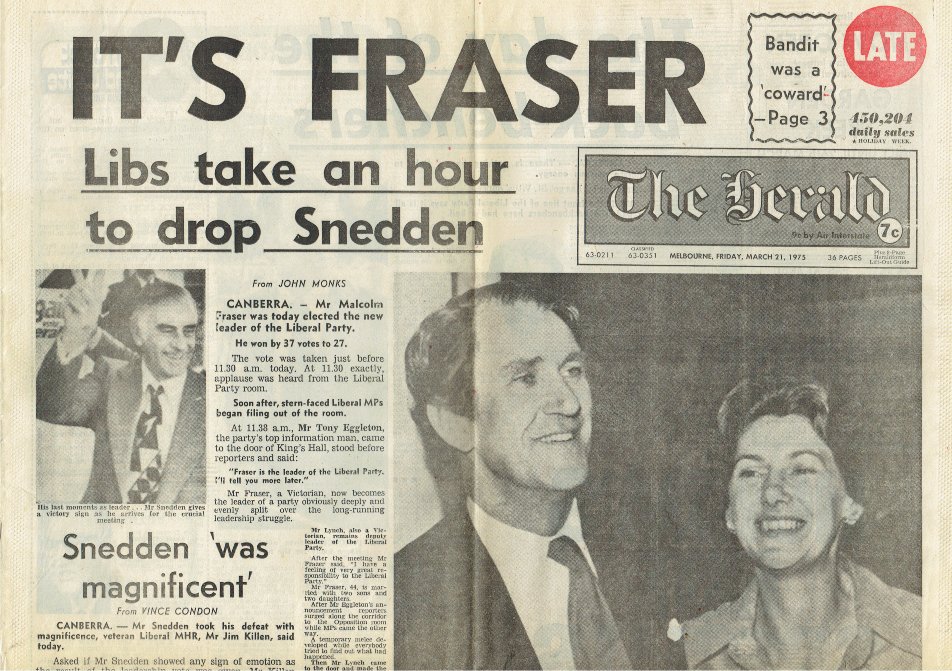 Five-a-Day – March 1975

March 21, 1975: ABC radio's PM program reports on Fraser's election (12m)


March 21, 1975: Melbourne radio 3AW broadcaster Ormsby Wilkins assesses Fraser's election (3m)


March 21, 1975: "I generally believe…" – Fraser's remarks about blocking Supply to the Whitlam government (1m)


March 22, 1975: The Prefect – Whitlam's response to Fraser's remarks (1m>


March 22, 1975: Whitlam on the Liberals – extended version of Whitlam's speech on the Liberals (9m)


March 21, 1975: Malcolm and Tamie Fraser interviewed by Michael Schildberger on Channel 9's A Current Affair (4m)


March 21, 1975: Defeated leader Bill Snedden interviewed by the Richard Carleton on the ABC's TDT at Canberra Airport (8m)


March 25, 1975: Fraser on Liberalism and the Whitlam government (2m)