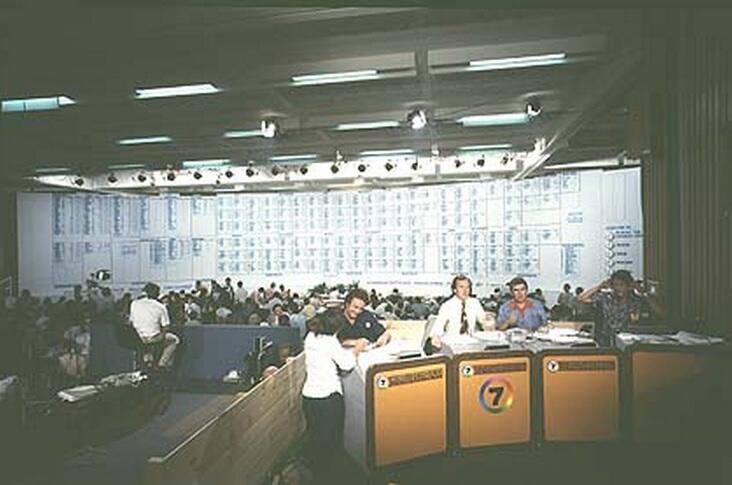 The 1977 Election Night Tallyroom
1. KEY FEATURES & HISTORY OF THE AUSTRALIAN ELECTORAL SYSTEM
Overview of democratic elements of the electoral system; Secret Ballot; Compulsory Voting; Full Adult Franchise; Independent Electoral Commission; Preferential Voting; Proportional Voting; First-Past-The-Post Voting.
2. AUSTRALIAN ELECTORAL COMMISSION
Electoral administration; the conduct of elections; redistributions; public funding; electoral education.
3. THE FRANCHISE AND ELECTORAL ENROLMENT
Who can enrol in Australian elections; detailed enrolment statistics; history of the franchise in Australia; votes for women; proposals for reform.
4. PREFERENTIAL VOTING
This is the voting system used in House of Representatives elections and all state and territory lower houses aside from Tasmania and the ACT.
5. PROPORTIONAL REPRESENTATION VOTING
The voting system used in the Senate and a number of state and territory upper houses.
6. FIRST-PAST-THE-POST VOTING
The most popular voting system in the world, this system is NOT used in Australian elections.
7. TYPES OF VOTES
Ordinary votes; postal votes; absentee votes; provisional votes; overseas votes.
8. INFORMAL VOTES & DONKEY VOTES
What is an informal vote? Why donkey votes are not informal; Informal voting statistics for the House of Representatives and Senate.
9. HOW-TO-VOTE CARDS
Why how-to-vote cards matters; examples of how-to-vote cards.
10. FEDERAL ELECTION TIMETABLE
Constitutional and legislative requirements that affect the timing and conduct of federal elections; federal election timetables
11. ELECTION DATES
Federal election dates since 1901; State and Territory election dates since 1945; future election dates.
12. FEDERAL ELECTIONS SINCE 1972
Information on every Australian federal election since 1972.
13. HOUSE OF REPRESENTATIVES ELECTION RESULTS
Detailed statistics on House of Representatives election results since 1901.
14. PRIMARY VOTES
What are primary votes? Statistics on primary votes in federal elections since 1901.
15. TWO-PARTY-PREFERRED VOTES
Two-party-preferred statistics; the importance of preferences; measuring electoral swings.
16. BY-ELECTIONS – HOUSE OF REPRESENTATIVES
Causes of by-elections; by-election dates; recent by-elections.
17. SENATE ELECTION RESULTS
Detailed statistics on Senate election results since 1901.
18. STATE ELECTIONS
Information on assorted State elections.
19. VOTING BEHAVIOUR
What determines individual voting behaviour? Long-term socio-economic factors and medium to short-term political factors; federal election analysis by party campaign directors.
20. ELECTION COSTS, FUNDING & DONATIONS
Costs of federal elections; donation and disclosure rules; public funding of elections.
21. ELECTORAL REFORM
Proposals for electoral reform. Proposals for electoral reform are often part of other proposals for constitutional and parliamentary reform.
22. ELECTION LITERATURE
Election leaflets of all kinds; stickers and badges; how-to-vote-cards.