The Howard Government was first elected on March 2, 1996. It was the first federal victory by the coalition of the Liberal and National Parties since 1980. It remained in office until the end of 2007.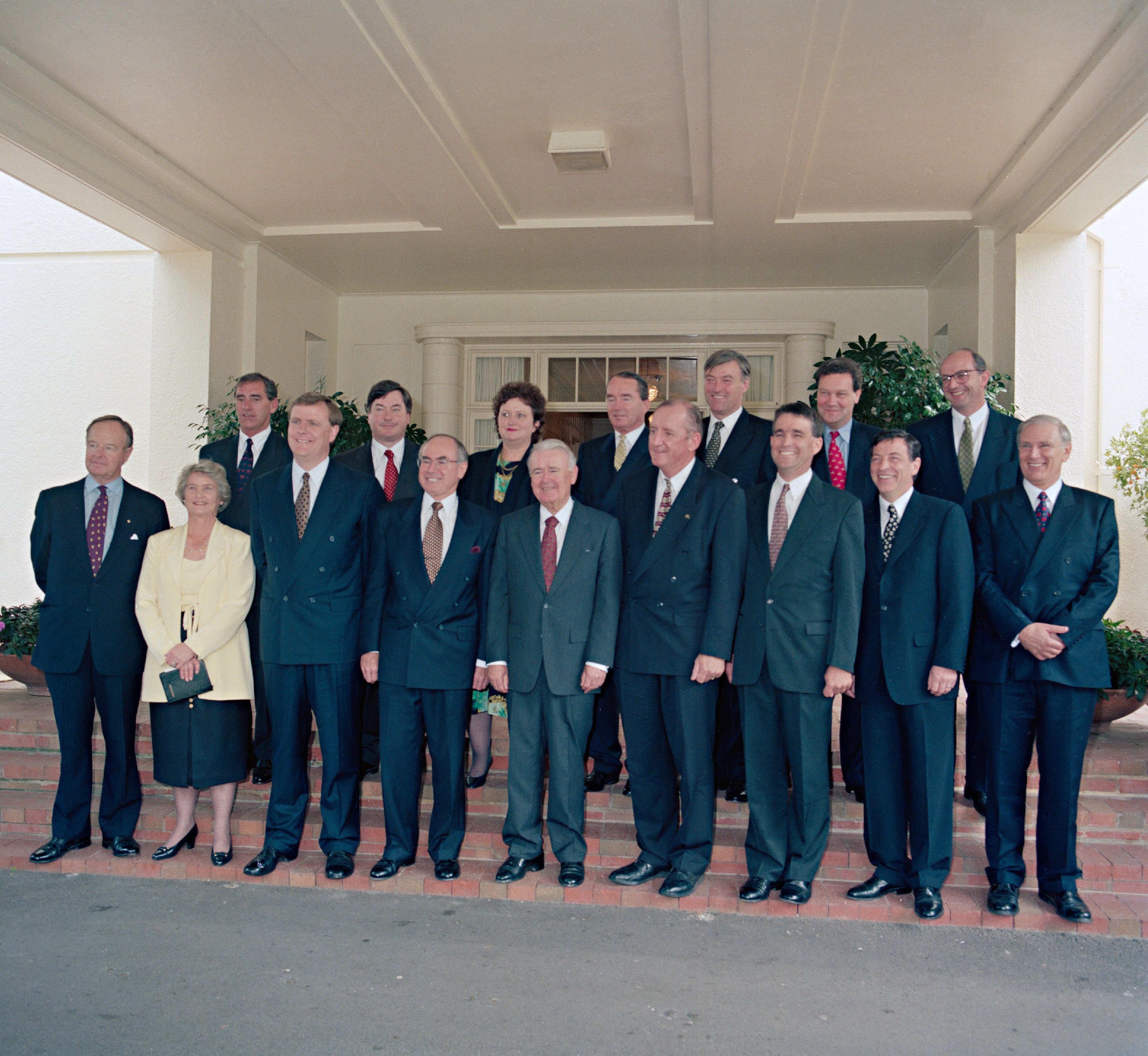 The first Howard Cabinet – 1996
Led by John Howard (Liberal Party) and Tim Fischer (National Party), the coalition swept to power in a landslide that delivered 94 seats in the 148-seat House of Representatives. However, the government did not secure a majority in the Senate, where the balance of power remained with the Australian Democrats.
The government was re-elected on October 3, 1998, but with a vastly reduced majority. This victory accompanied a campaign pledge to introduce sweeping taxation reform, including the introduction of a Goods and Services Tax.
During its second term, the Deputy Prime Minister, Tim Fischer, stood down and was replaced by John Anderson. A parliamentary deal with the Democrats led to the passage of the taxation reforms and the GST was introduced on July 1, 2000.
By 2001, the government appeared to be suffering a severe electoral decline. State governments were being steadily overtaken by the ALP and the Liberal Party lost a by-election in one of its blue-ribbon seats, Ryan in Queensland. By mid-year, assisted by a number of important policy changes, the government was able to retain the seat of Aston in a by-election.
The Howard government was re-elected to a third term on November 10, 2001, this time with an increased majority. The campaign was dominated by the issue of asylum-seekers and refugees, and took place against the backdrop of the events of September 11.
A fourth term was achieved on October 9, 2004, against a Labor Party now led by Mark Latham. The victory also delivered a majority in the Senate. Amidst controversy over the Liberal Party leadership and contentious policies such as the WorkChoices legislation, the government was defeated by Kevin Rudd's Labor Party at the 2007 election.
John Howard's term in office made him the second longest serving Prime Minister after Menzies. As with Stanley Bruce in 1929, Howard lost his own seat at the election.
Howard Ministry
Budgets
Speeches & Statements
The archived news items listed below contain links to Howard speeches and statements over recent decades.
Archived News Items